A word about myself
Since I'm talking today mainly about the EBU-TT family of specifications, I guess I've got both a BBC and an EBU group chair hat on right now. Two hats for the price of one!
Terminology
"Subtitles" is a synonym for "Captions" in the US
We're talking here about "closed captions" intended primarily for the hard of hearing audience,

i.e. subtitles that can be switched on and off and that are delivered as a separate asset from the main programme
Who is trying to achieve what?
Viewers - watching television
Broadcasters - increasing reach, meeting regulatory requirements
Service Providers - selling services for making TV accessible, distributing TV either traditionally or over the web
Manufacturers - selling equipment in the broadcast chain and domestic environment
History
1970s: Teletext
1980s: BBC pioneered subtitles based on Teletext in the early 1980s
1990s: EBU publishes STL file format for storing and playing back prepared subtitles - binary, fits on a 3.5" floppy disk
2000s: BBC, others begin work on what becomes known as Timed Text Markup Language (TTML) in the W3C; BBC iPlayer: TTML subtitles
2010s: TTML -> W3C Recommendation; EBU publishes EBU-TT to replace STL, based on TTML - then EBU-TT-D etc …; W3C: IMSC profile of TTML
Status today, in the BBC
BBC subtitles 100% of programmes on all channels with significant reach
Subtitles are created once by our service provider Ericsson, then repurposed for:

DVB Bitmap subtitles
Teletext subtitles
TTML subtitles for iPlayer
The near future for the BBC
Reusing subtitle documents for internal use

Metadata
Search
Navigation services

Including script data

Including scripts for creating Audio Description (Video Description)

TTML-based workflow throughout, except at the end of the chain
Live TTML as well as prepared
A brief introduction to TTML
TTML is a markup language based on XML, using structural elements like in (X)HTML: - <head>, <body>, <div>, <p> and <span>, with styling semantics taken from XSL-FO/CSS and timing semantics taken from SMIL. Styling and layout are applicative: <style>s and <region>s are defined and identified, and content elements can reference them; inline style attributes are ok too.
TTML Document Instance structure - tt
<tt>
    <head>
    ...
    </head>
    <body>
    ...
    </body>
</tt>

TTML Document Instance structure - head
<head>
    <styling>
        <style xml:id="style1" tts:color="blue" ... />
    </styling>
    <layout>
        <region xml:id="region1" tts:origin="20% 80%" ... />
    </layout>
    <metadata> <!-- info about the document -->
</head>

TTML Document Instance structure - body
<body>
    <div>
        <p begin="10:11:12.345" end="10:11:13"
           region="region1" style="style1">
            <span ttm:role="sound">Bang!
            <br/>Whoosh!</span>
        </p>
    </div>
</body>

The EBU-TT profiles of TTML
They are TTML profiles in that they constrain the allowed feature set from the bigger TTML set, and add some extensions.
Or in picture form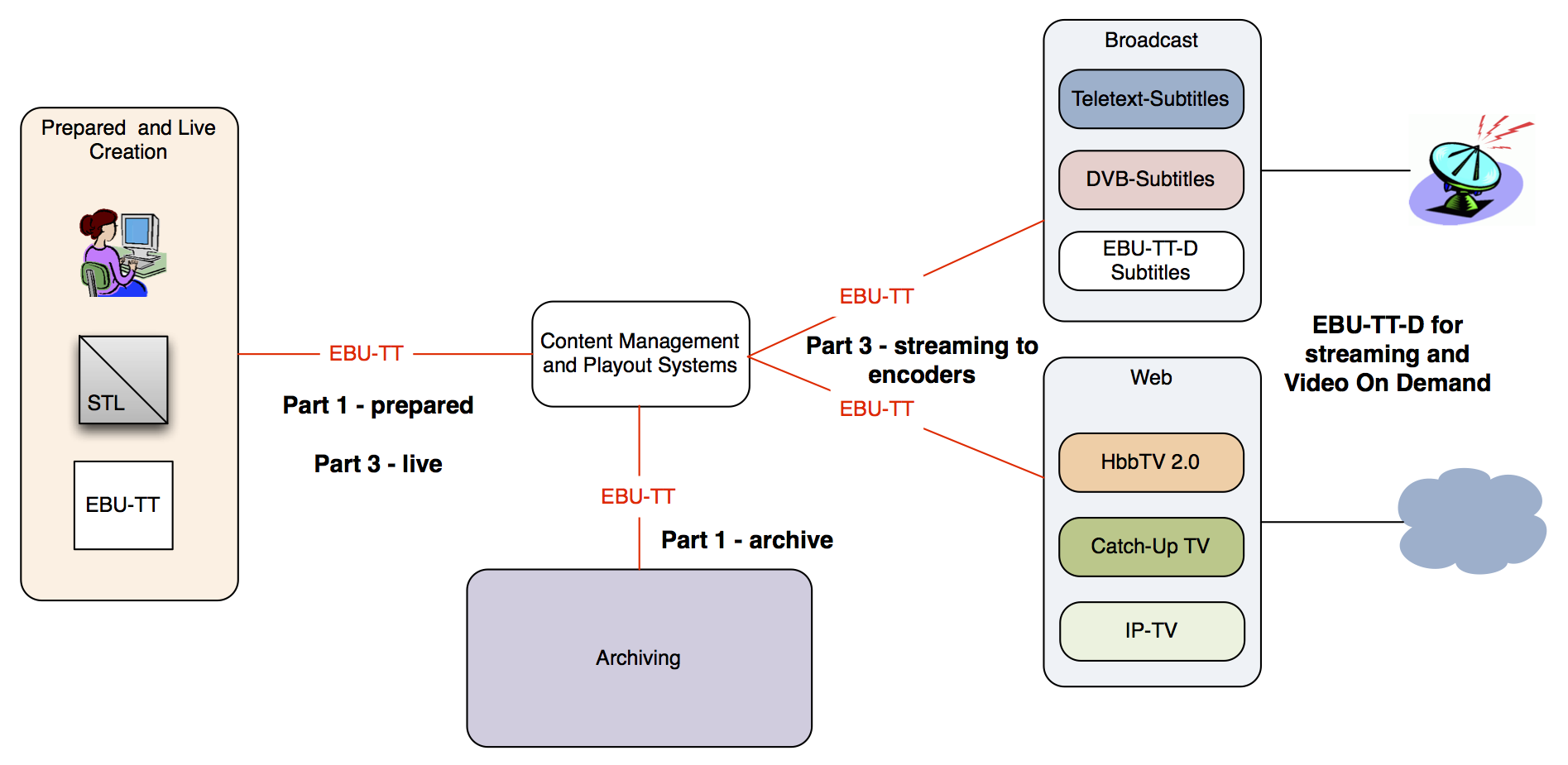 Part 1: Archive and Exchange
Prepared subtitles or archive of live subtitles
Metadata to support the workflow
Metadata to support content reuse
Supports broadcast specific issues like:

SMPTE timecode or media times or clock times
aspect ratios
Conversion to other downstream formats
Part 2: Conversion from STL
Strategies for conversion to EBU-TT Part 1 to maintain audience experience
Positioning, styling, timing, text etc
Addresses Teletext style subtitle conversion
Binary STL files can also be embedded in EBU-TT for simple extraction to support legacy workflows
Part 3: Live and streaming from playout to encoder
Uses identified ordered sequences of TTML documents
Exactly one document is active at each moment
Specifies rules for determining which document is active
Can be sent directly e.g. over IP, or embedded into video
Architecture to support on the fly improvements such as spellchecking, re-synchronisation etc
Support for operational practices like handing over between subtitlers
Requirements for defining carriage specifications
Part 3: Example simplified workflow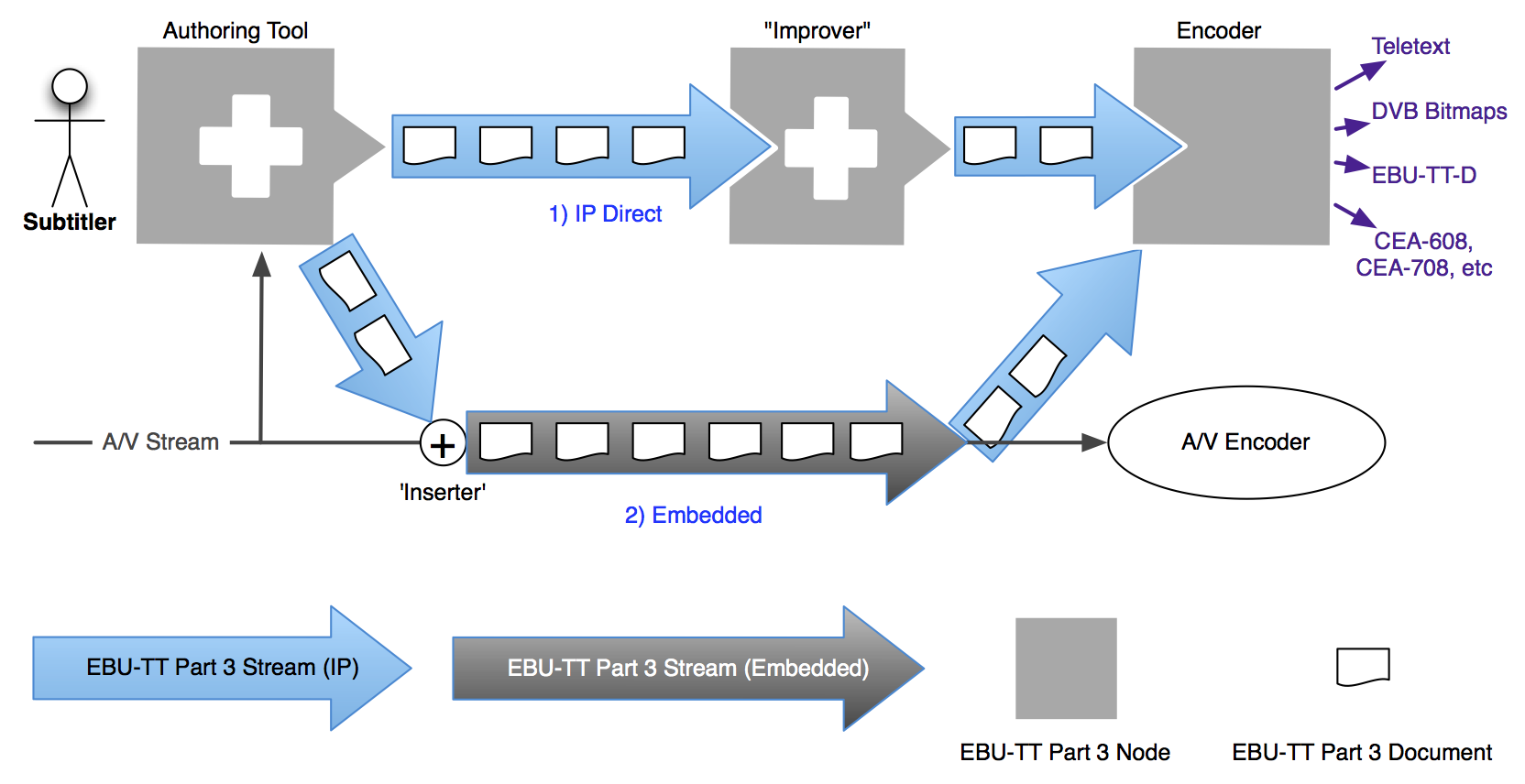 Part 3: Leaving live to last?
Live streaming from subtitler or playout automation to encoders is the last piece in the puzzle needed to allow subtitles to be authored, stored, played back and delivered in the broadcast environment using TTML.
We left it to last because it is arguably the most complex part. Before we go ahead and move this to v1 we want to make sure it works and that despite our careful thought we haven't missed anything. We also want to make it as easy as possible to build interoperable products that use it.
EBU-TT-D: Distribution
EBU-TT-D can do everything that the other formats can do in presentation terms but is simplified as much as possible for easy implementation - for example:
Media times only
No nested timed content
Highly constrained syntax
Minimal metadata
EBU-TT-D adoption
EBU-TT-D in DASH is used in DVB DASH, HbbTV 2.0 and Freeview Play.
Encoders/packagers

Various, in different states, e.g. keepixo, gpac mp4box, bitmovin etc

Players

BBC's gstreamer based implementation - see the github page.
The dash.js player also plays back EBU-TT-D subtitles.
Plus any IMSC 1 Text profile players.
Implementing this in BBC
We're on the way to implementing this:
Unified subtitle guidelines for broadcast and online
Prepared & live captured EBU-TT files (with embedded STL)
Still dependent on legacy tech for playout
TTML output for SMP - working towards positioned subs with EBU-TT-D in MPEG DASH
Conclusion
The EBU-TT family of TTML-based specifications is an open standard that supports the whole chain for broadcasters and others:
Authoring
Playout
Encoding and Packaging
Distribution
Archiving and content reuse
Thank you
Time for:
comments,
questions,
a demo of something completely different…
Nigel Megitt, Executive Product Manager Access Services, BBC nigel.megitt@bbc.co.uk
Slides created using shower/jekyller